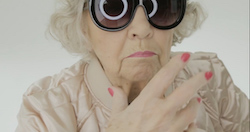 Our client LiveNation have come up with the very interesting Wireless Festival in Frankfurt
focussing on modern urban music and asked us to set up a viral campaign.
That was our chance and big fun to set our personal record
and shoot with the 90 year old Hip Hop fan Traudel and her slightly younger counterpart Ursel. Yo, bitch!