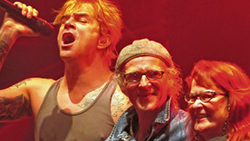 In times of increasing Neonazi violence it was our deeply felt wish to support the festival "Jamel rockt den Förster".
It is organized by Family Lohmeyer who are the only people in their village standing against Neonazis.
Die Toten Hosen and many other artists came and made a loud and clear statement against racism, facism and discrimination
and to support this brave festival. We are proud to have been a part of it and made a short video with some impressions.