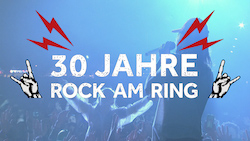 We are very proud and exited to have made a 45 minute documentary film for ARD
about "30 years of Rock am Ring", Germany biggest music festival.
We have worked ourselves through archives and made interviews with musicians,
among them Campino, Smudo, Tom Morello, Sportfreunde Stiller, Cro, Placebo, Linkin Park, Bryan Adams
and the festival promotors Marek and Andre Lieberberg.
Receive an online link with password by sending us a mail.